Placement in ballet classes for dancers age 5 and up are by placement class audition.  
This class is free of charge and will determine the best placement for new students.  
Ages are a guideline and classes will be adjusted, as needed, to meet the needs of the dancer and to prevent risk for injury.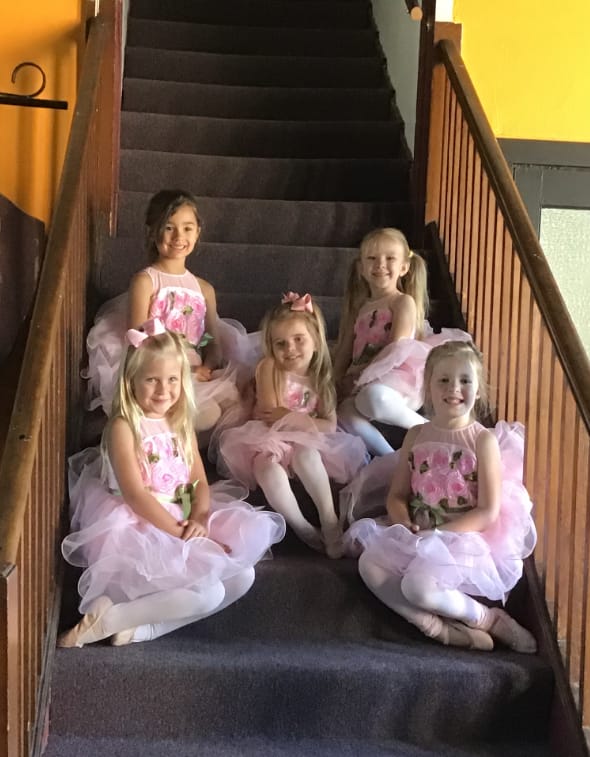 Fancy Feet Club
3-5 years
This class includes pre-ballet, tumble, and tap. Your child will have fun learning basic ballet, tumbling, and tap. It is creative and imaginative allowing your child to fully express themselves while developing their motor skills and musicality. It is suitable for both boys and girls as they love to interact at this young age.  Above all, it is fun, expressive, and an informal method of learning basic skills in preparation for Primary level ballet.
Primary Ballet
5+ years, teacher placement
Instruction becomes more creative and imaginative to keep young children's attention so they can progress to the graded ballet. Building on what is learned in the Pre-Ballet lessons, children further develop their musicality, coordination and concentration, advancing their skills in preparation for graded work. Suitable for boys and girls age 5 plus, as per placement class.
Grade 1-6 Ballet 
8+ years, by teacher 
Our graded classes provide the foundation important to any dance student, and creates a facility for all dance forms. With the help of dedicated and caring faculty, graded ballet classes continue to challenge and improve dancers' abilities. Classes will improve technique, strength, musicality, flexibility and coordination and progress in difficulty as your child is ready.
Teen Ballet
13+ years, beginner
We welcome teenagers starting ballet for the first time as an opportunity to build confidence, strength and endurance. These classes provide an atmosphere to increase positive self-esteem, skill, technical ability, and a deeper understanding of ballet movement and terminology.
Intermediate Ballet 
teacher placement, experience required
Intermediate Ballet is a vocational, graded class for students who have successfully reached the standard level necessary for more advanced training. Learning ballet requires patience and continual study over time, and our intermediate ballet is designed for the serious ballerina or danseur pursuing pre-professional and professional dance.
.
Advanced Ballet
pre-professional & professional
Our Advanced Ballet program is best suited for the aspiring ballerina or danseur who has already accomplished a significant level of pre-professional ballet training. Due to our strict adherence to classical technique we often find that 'advanced' students from most area schools will do best enrolling in our intermediate level.
.
Adult Ballet
by teacher placement
Adult ballet varies from beginner to advanced. Our instructors tailors instruction to allow for varying skill levels, from the beginning student to the students with a background in dance or ballet. This class provides a positive atmosphere for all adult students, and will build confidence, skill, balance, and endurance.
If you have dance experience and wish to audition for a placement within the IBT Adult Company please email [email protected]
Pointe and Partnering
Pointe is ballet at its best and a major goal in a ballerina's dance life.  IBT is proud to have over 30 highly-skilled dancers on pointe at any given time.  Correct body position and alignment, sufficient turnout, strength and balance, mastery of basic ballet techniques along with a physical and emotional maturity are required to begin Pointe.  Due to the complex skills necessary to safely dance on pointe, IBT directors personally evaluate students and their readiness for pointe.  When the student has reached the appropriate graded level of ballet instruction to safely achieve pointe, teachers may recommend students to the IBT directors to begin pointe. Partnering classes available throughout the year in conjunction with our pointe program.