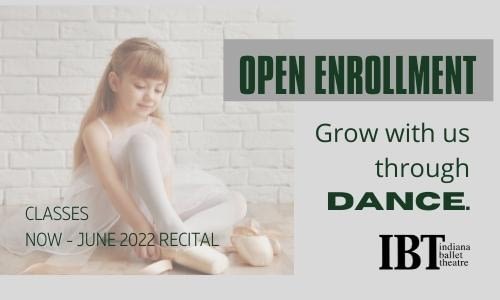 Open Enrollment
Classes August 16 – June 2022 Recital
Grow with us through DANCE! Classes begin August 16 and run through June 2022. Our classes end with summer recital in June 2022. Classes for children ages 3 and up.
Review our schedule of classes and enroll.
OUR STUDIO LOCATIONS:
Merrillville Studio – 8888 Louisiana, Merrillville, IN
DeMotte Studio – 202 5th Avenue NE, DeMotte, IN
Valparaiso Studio – 552 Morthland Drive, Valparaiso, IN
QUESTIONS:
Email us: info@ibtnw.org
Call us: 219.755.4444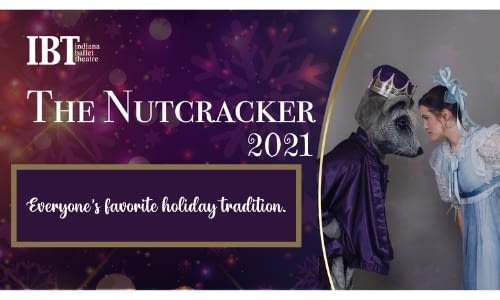 The Nutcracker 2021
TICKETS ON SALE NOW!
Join us for everyone's favorite holiday tradition – The Nutcracker!
(Select time to purchase tickets and select seats.)
Hoosier Theatre | 1335 119th St., Whiting, IN 46394
Friday, December 10
10am (Reserved for school field trips.)*
Saturday, December 11
Sunday, December 12
* To arrange your school field trip, contact IBT Main Office 219.755.4444
Golf Fundraiser 2022
More info coming soon!
Tea Time with Nutcracker & Friends
Sunday, November 21 | Dean and Barbara White Community Center, 6600 Broadway Street, Merrillville, IN 46410
Celebrate the holidays with Indiana Ballet Theatre's The Nutcracker cast members! This is a festive Tea Party with all your favorites, including Clara and the Rat King, and many more. Complete with entertainment, music, vendors, catering service and silent auction, this party is sure to please the entire family! Your child will enjoy meet-and-greets and photos with Nutcracker characters. This is an all-ages event.
IBT SnowBall
Friday, November 5 | Halls of St. George, Schererville, IN
Indiana Ballet Theatre's "SnowBall" 15th Annual Gala is the primary fundraiser which supports the Classical Arts Centre renovation project that will serve as future home to IBT and a hub for all the arts. Join IBT for an evening of fine arts entertainment, dinner, dancing, silent auctions, paddle-raise, raffles, and games.
Learn more about the Classical Arts Centre.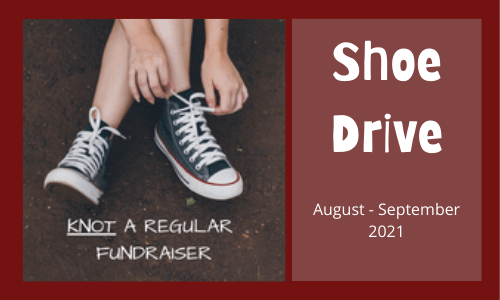 Shoe Drive
Knot a Regular Fundraiser
August 1 – November 1
Join IBT for a Knot a Regular Fundraiser Shoe Drive! Help us help others.
All donated shoes will be redistributed to microenterprise partners through Funds2Orgs, a for profit social enterprise, and used in developing nations for impoverished people to start their own businesses.  Learn more: Microenterprise_Presentation
Start cleaning out your closets — this is a great back to school project. Ask us for an official Shoe Drive Bag, then fill the bag August 1-September 1 with your gently used shoes. September 1-15 arrange for drop-off of your filled Shoe Bags with IBT by emailing info@ibtnw.org or calling our studio 219.755.4444.
Merrillville Studio – 8888 Louisiana, Merrillville, IN
DeMotte Studio — 202 5th Avenue NE, DeMotte, IN.
Need curbside drop-off? No problem. Give us a call to schedule your drop-off.
QUESTIONS:
Email us: info@ibtnw.org
Call us: 219.755.4444
CAC on the Lawn
Look what we've done so far!
August 13 | 4pm-8pm | Show begins at 6pm
Location: Classical Arts Centre, 2323 N. Main Street Crown Point, IN
Join IBT and local leaders for an update on the renovation of the Classical Arts Centre. See how this landmark, future destination and hub for all the arts, is making progress.  Bring your lawn chair and enjoy music, food, performances and the unveiling of Artist Krista Gray's interactive art piece. This family event is open to the public and there is no entry fee.
QUESTIONS:
Email us: info@ibtnw.org
Call us: 219.755.4444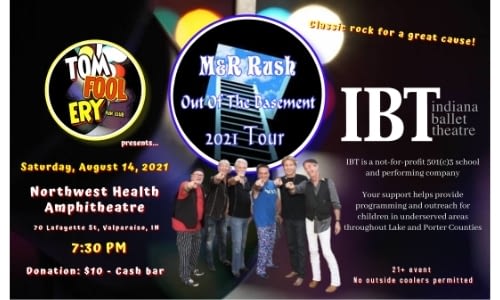 M&R Rush Out of the Basement 2021 Tour
Saturday, August 14 | 7:30pm | Central Park Plaza – Northwest Health Amphitheater, Valparaiso, IN
Tomfoolery Productions LLC and Indiana Ballet Theatre, are pleased to present rock legend M&R Rush as they continue their "Out of The Basement" 2021 concert tour! Please join us on Saturday, August 14, 2021 at 7:30 PM for an evening of incredible music at the beautiful 
LEARN MORE ABOUT M&R RUSH
Your support helps provide programming and outreach for children in underserved communities throughout Lake and Porter Counties.
Donation: $10 (cash bar) | 21+ event | No outside coolers permitted.
2021 Kids Dance Camp
Calling all TROLLS! The kids won't want to miss this year's rockin' & trollin' Kids Camp! A memorable, fun packed week of dancing, crafting, and snacking. Dance Camp week ends with a performance for families and an ice-cream social. July 12-16 | Ages 5-11.
Merrillville Studio: Monday-Friday| 11am-3pm
DeMotte Studio: Monday-Friday | 4pm-7pm
Fee: $100/child (Early Bird Registration fee $95 by June 12)
"Opal Rey Trinity" A Tribute to Molley Renee Lanham
a Kaliedoscope Production
Come and join us on Saturday, June 19th at the historic Hoosier Theatre in Whiting, IN for our annual Kaliedoscope Production, Opal Rey Trinity: "A Tribute to Molley Renee Lanham." Choreographed by her sister, Lindsey, this is a moving and beautiful tribute. Our IBT Company, ranging from our pre-professional, adult professional dancers, and alumni are honored to present this very special, heart-full Kaliedoscope.
A portion of the proceeds will be donated to the Molley Renee Lanham Foundation.
Hoosier Theatre, Whiting, IN
Saturday, June 19 | 1pm, 4pm & 7pm
Cinderella
Our spring performance is a favorite — Cinderella.  Cinderella is a comedic classical ballet choreographed by Rostislav Zakharov to music composed by Sergei Prokofiev.  Watch this fairy tale ballet come to life with Cinderella, Prince Charming, Fairy Godmother and the crazy step sisters, Esme and Theodora. Don't miss our talented cast in this magical, memorable performance.