Spring Enrollment
Classes now through Recital 2023
Spring into DANCE! Classes now through Recital 2023. Classes for children ages 3 and up.
OUR STUDIO LOCATIONS:
Merrillville Studio – 8888 Louisiana, Merrillville, IN
DeMotte Studio – 202 5th Avenue NE, DeMotte, IN
Valparaiso Studio – 155 1/2 W Lincolnway, Valparaiso, IN (Asana Yoga Center)
QUESTIONS:
Email us: [email protected]
Call us: 219.755.4444
Coppelia
Halls of Justice | 220 S. Main St., Crown Point, IN 46307
Saturday, April 15 | 6pm (Arrive by 5:30pm*)
Sunday, April 16 | 2pm (Arrive by 1:30pm*)
Halls of Justice Tickets:
(Includes meal. Limited to 100 guests per show)
Adults & Seniors: $35
Children: $25
Coppelia is a comic ballet from 1870 originally choreographed by Arthur Saint-Léon to the music of Léo Delibes, with libretto by Charles-Louis-Étienne Nuitter. Coppelia is a classical ballet based on a story by E.T.A. Hoffmann entitled "Der Sandmann" ("The Sandman"), which was published in 1815. The ballet premiered in 1870. 
(Menu for family-friend buffet: Ham and swiss sliders, chicken salad sandwiches, pasta salad, cheese and crackers, fresh fruit and pastry.)
*Arriving early will allow our guests to be seated and a visit to our family-friendly buffet. There is no physical tickets for this performance; guests must check-in at entrance for seating information.
Parking: Halls of Justice does not have onsite parking, but does have limited street parking available. Public parking lots. 
Coppelia
Indiana University Northwest Mainstage Theatre
IUN, 3415 Broadway, Gary, IN 46408
(Located in the Arts & Sciences Building 2nd Fl., across Broadway from the Main Campus.)
Friday, April 28 | 7pm (Doors open at 6:30pm)
Saturday, April 29 | 2pm (Doors open at 1:30pm)
IUN Mainstage Theatre Tickets:
Adults: $25
Children/Seniors: $20
For special group rates contact IBT Main Office:
Email us: [email protected]  | Call us: 219.755.4444
Parking: Please park in Lots 9 or 14. Enter through the doors at the north end of the building. Stairs and Elevators located near the north entrance door.
IUN Parking Map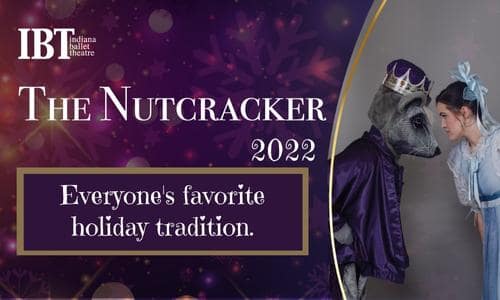 The Nutcracker 2022
December 8 – 11, 2022 
IUN Theatre Northwest | 3415 Broadway, Gary, IN 46408
Join us for everyone's favorite holiday tradition — The Nutcracker! IBT is celebrating its 25th year of this theatrical classical ballet production. Our cast is comprised of IBT's Ballet Company and our School of Dance, in addition to students from several local dance studios. Kick off the the season with us as we celebrate the spirit of the holidays with The Nutcracker at Theatre Northwest at IUN.
Tea Time with Nutcracker & Friends
Sunday, November 20, 2022 | 11am-2pm 
Dean & Barbara White Community Center
6600 Broadway St., Merrillville, IN 46410
Celebrate the holidays with Indiana Ballet Theatre's The Nutcracker cast members! This is a festive Tea Party with all your favorites, including Clara and the Rat King, and many more. Complete with entertainment, music, catering service and silent auction, this party is sure to please the entire family! Your child will enjoy meet-and-greets and photos with Nutcracker characters. This is an all-ages event.
Masquerade Ball
Friday, October 7, 2022 | 6pm
Halls of St. George, 905 E. Joliet St., Schererville, IN
Thanks so all our sponsors and guests for joining us for our 15th annual fundraiser Gala "Masquerade Ball." Our Gala is the primary fundraiser which supports the Classical Arts Centre renovation project that will serve as the future home to IBT and a Northwest Indiana hub for all the arts. We appreciate you for supporting the arts! 
Kaliedoscope "Synergy"
Chicago Street Theatre  | 154 W Chicago St. Valparaiso, IN
Friday, May 27th: 6:30pm
Saturday, May 28th: 2:30pm
Saturday, May 28th: 6:30pm